Iridient X Transformer coming soon… and it seems perfect
NOTE – the public beta is now out download the demo here: http://iridientdigital.com/products/xtransformer.html
Iridient Developer.  One of the best programs for processing RAF (Fuji RAW) files used to be MAC only.  Now something new for Windows is almost here… and it seems like a game changer.
Recently on Fuji Rumours (here) there was a post stating that Iridient Developer (in the form of "Iridient X Transformer") is coming soon to Windows!  Of course, what "coming soon" actually means I don't know, but from comments by Brian Griffith (the guy who does Iridient) in the comments section.  It seems "coming soon" is within about a month.
Here's some quotes from Brian Griffith (owner/operator of Iridient Developer) the comments section of Fuji Rumours:
"Completely flexible Fujifilm lens profile support will be in these tools just as in Iridient Developer. You can "bake in" lens corrections using the same high quality algorithms as Iridient Developer, or include the corrections as DNG metadata as supported by Lightroom (faster processing but lower quality in LR), or ignore them completely. You can independently include/exclude each correction (distortion, CA and vignetting) as well. "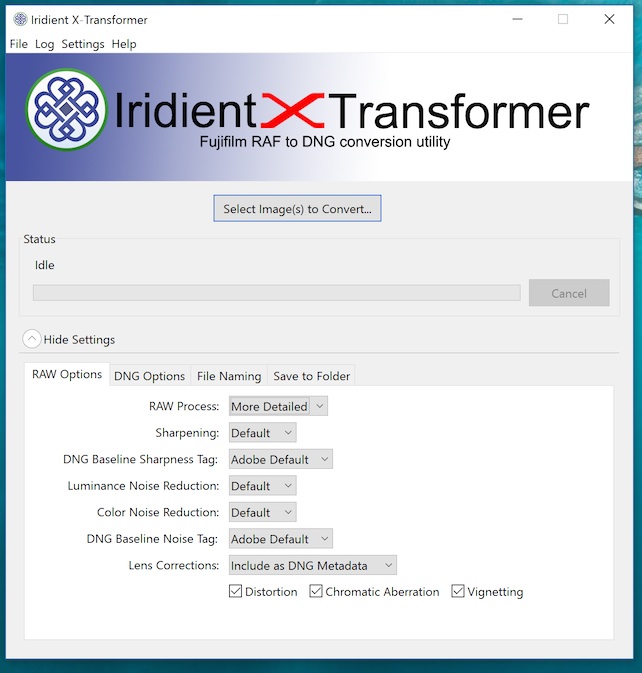 You can see from this screen shot you can add the Distortion (lens correction), Chromatic Aberration and Vignetting information here.
"Initially, for better or worse, the camera color profiles and color rendering will be identical to Adobe's and within Lightroom you can apply any of their Fuji film style profiles or 3rd party profiles as well."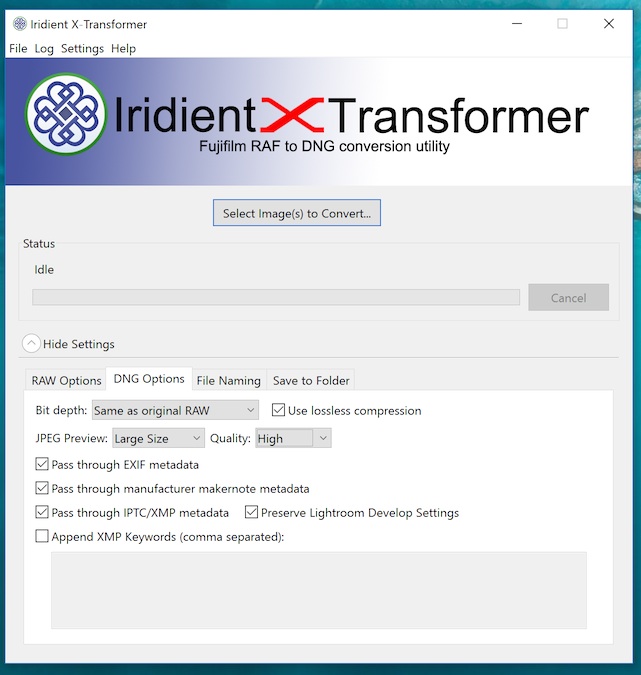 I guess "Preserve Lightroom Develop Settings" is what he's referring to here.
"After the initial beta I'll likely be adding support for my own Iridient camera profiles and film styles as well as user supplied camera profiles. Color won't be identical to Iridient Developer's as I typically use ICC color management for my profiles there and DNG does its own thing for camera color management, but should be reasonably similar. For people who aren't particularly fond of the Adobe color there'll be options to easily change that eventually."
Personally I AM pretty fond of Adobe colour (their colour profiles, not the "Adobe Standard") for the newer sensor cameras at least.  They match the jpegs quite well.
Brian then went on to say:
"This particular product will be Fuji RAF only, but I plan a series of basically identical products for Canon, Nikon, Sony, Olympus and maybe a few others that should all follow shortly. Rough guess January for Canon/Nikon/Sony releases along with Mac versions of all of these. Roll out of these products is going to largely depend on how smoothly things go with this first Fujifilm one…"
Note he says here that this product is for Fuji only and a Canon/Nikon/Sony version will come in January.  That means (hopefully) the Fuji version will be coming within the next few weeks.
"Also planned is a "pro" version in this DNG converter line that will support nearly all RAW models supported by Iridient Developer (700+ I think it's up to) along with some other more advanced features and export to TIFF/JPEG/PNG/etc, flexible image resizing, HDR expansion and more. This "pro" release probably won't happen until Spring/Summer 2017 or later. Again will be very dependent on how things go with everything else on the schedule including a major Iridient Developer update…"
Not something I'd be interested in, but seems nice.
"You'll be able to apply most or all of the cost of the single brand products when upgrading to the "pro" version on its release. The "pro" release will likely be 2-3x the price of the single manufacturer programs."
Good to know that if you decide you want the "pro" version at a later date and you already own a single brand version, you can get the cost of that counted to the pro version.  Very nice.
My thoughts on this:
Personally I think this is a very smart way to do this.  Many FUJI users (me included) are impressed by the way Iridient renders files, but we are also mostly happy with Lightroom.  Giving us an option to create a file with Adobe colours (profiles) and Iridient processing gives us basically an excellent RAW file sharpener for Lightroom.
It's also really smart to bring this out for FUJI first.  One of the major issues Fuji users have is with the way Adobe goes about demosaicing RAF (RAW) files.  In my PREVIOUS TESTS I found that, while Adobe wasn't too bad, each time Iridient did the best.  Unfortunately at the time there wasn't a windows option, so I've stuck with Lightroom.
I'm 90% happy with Lightroom, but always wished Adobe would let us squeeze just a little more out of the RAF files.  IridentXTransformer seems like the perfect solution for me and I feel may become a must purchase for any serious Fuji user.
Let's see.  I'll definitely be reviewing it after it comes out.
Note: I am not paid by anyone to test or endorse any product.  I try to be as fair and unbiased as I can humanly be.